The world is full of opportunities and very few students are aware of this. There is a plethora of professions one can take up. It is here that counselling and career guidance becomes very pertinent. Our girls are guided and assisted right from the conception of initial ideas about course choice through to application submission. The girls are offered specialist subject support, seminars, workshops, personal statement advice and mock interviews in the process of college admissions. The School Career Counsellor oversees all those applying to Indian and International Universities, guiding them through this particularly complex process, including the ACT and SAT admissions tests and arranging visits from Admission Officers. The School's Careers department makes every possible effort that girls' university choices dovetail with their careers planning.
We have an excellent track record of college placements for our girls, thanks to a strong program of college counselling by our professional counselling staff. Our students have won places in many of the world's most highly selective universities across a variety of disciplines viz. Engineering, Medicine, Management, Law, Architecture, Mass Communication, Literature, Design, Fashion and Performing Arts. Our students are also enrolling in an increasingly wide range of courses from the traditional to cutting-edge, inter-disciplinary and cross-disciplinary options.
No matter the country or the institution, what is certainly true is that UWS strives to enroll girls into higher education which is among the best the world has to offer.
INDIA
INTERNATIONAL

INDIA

All India Institute of Medical Sciences
Amity University
Banasthali University
Christ University
University Of Delhi
Indian School of Design and Innovation
ISDI Parsons College of Designing
Jindal Global University
Lady Hardinge Medical College
Narsee Monjee Institute, Mumbai
National Institute of Fashion Designing (NIFD)
National Institute of Fashion Technology (NIFT)
NMIMS, Bangalore
SRM University of Science and Technology
Sydenham College of Commerce and Economics
Symbiosis, Pune
Vellore Institute of Technology, Tamil Nadu

INTERNATIONAL

Cardiff University,UK
Deakin University, Australia
Florence Design Academy, Italy, Europe
Heriot Watt University, Dubai
International Medical University, Malaysia
Monroe College, NY
Pennsylvania State University, USA
Singapore Institute of Management, Singapore
The University of Illinois, Chicago, USA
University of Auckland, New Zealand
University of Bath, Bath, UK
University of Guelph, Canada
University of Illinois, Chicago
University of Manitoba
University of Brampton, Canada
University of South Florida, USA
University of St. Andrews, Scotland, UK
University of Sussex, Brighton, UK
University of Texas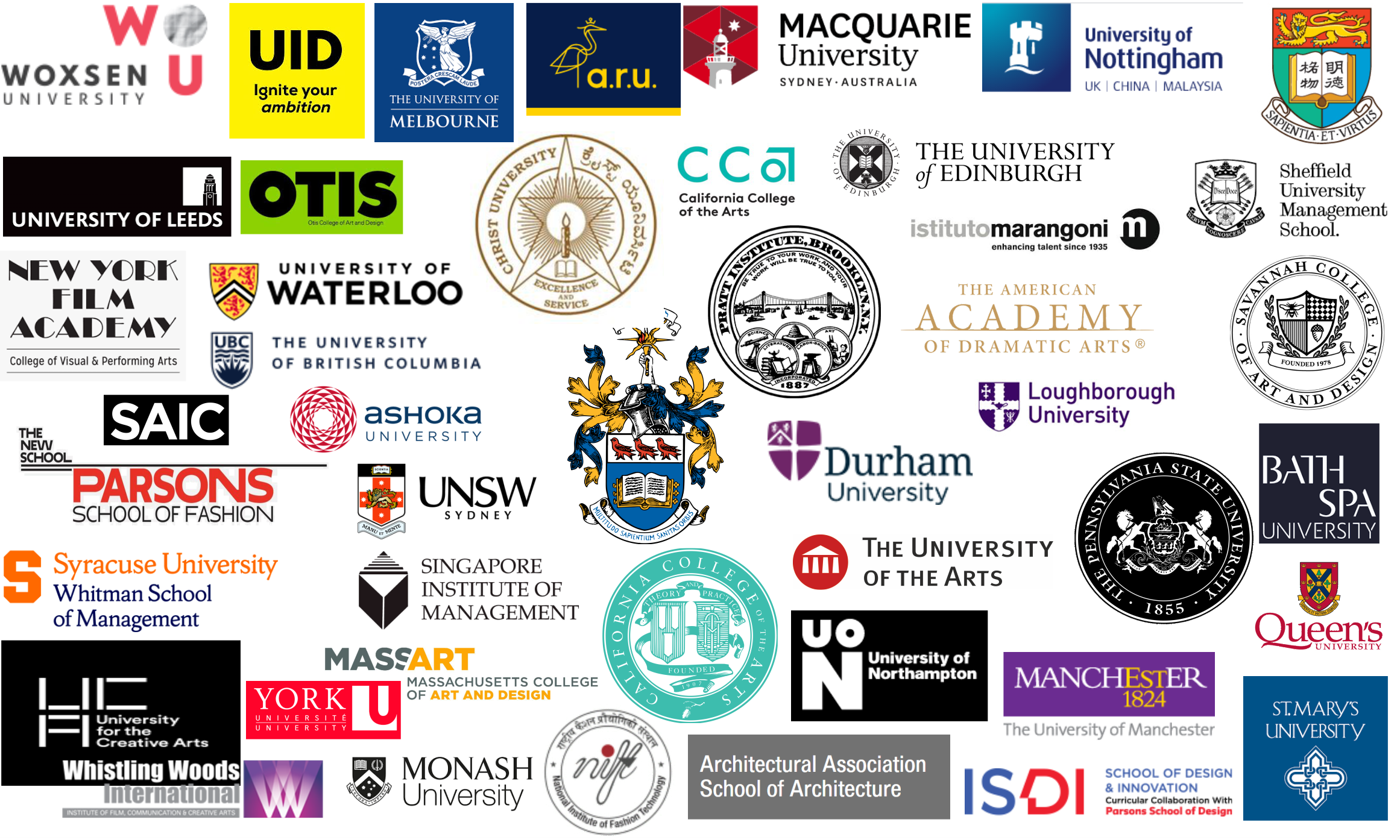 Undergraduate Offer Letters, 2022
SNo
Name
Admission Number
Class
Country
Acceptances
1
Sanvi Kapoor
1272
ALY2
UK, USA

Queen Mary University of London
Sheffield
University of Manchester
Penn state Universtiy

2
Nandni Tyagi
835
ALY2
UK

University of Sussex
University of Plymouth
University of Glasgow
University of West London

3
Bhoomi Gupta
772
ALY2
USA

Drexel Universtiy
Purdue University

4
Tanisha Khambaita
1354
XIIth C
India
5
Shruti Banka
1521
XIIth B
UK, India
6
Anushka Agarwal
931
XIIth B
USA, India

Loyola University
Drexel University
Penn state University

7
Riya Goyal
1041
ALY2
USA, Canada
8
Aashi Solanki
1415
ALY2
USA

Universtiy of Colorado Boulder

9
Sneha Lohia
1303
XIIth C
USA
10
Shreeya Shaema
932
XIIth B
India
Undergraduate Offer Letters, 2021
| SNo | Name | Admission Number | Colleges | Course/Company Name |
| --- | --- | --- | --- | --- |
| 1 | Nandini Mishra | 1483 | Flame University, OP Jindal Global University, Christ University- Delhi India | Psychology and Global Affairs |
| 2 | Preet Jakhar | 606 | OP Jindal Global University India | Psychology |
| 3 | Ritvi Jain | 945 | Ashoka University, Flame University, Christ (Deemed to be University)-Bangalore, Krea University India | Liberal Arts, Economics |
| 4 | Sanah Agrawal | 947 | Ashoka University, FLAME University India | Liberal Arts |
| 5 | Ashwina Bhati | 937 | Christ (Deemed to be University)-Bangalore India | Law |
| 6 | Disha Nagpal | 904 | Christ (Deemed to be University)-Bangalore India | Media and Communication |
| 7 | Divyanshi | 992 | Ashoka University, Christ (Deemed to be University)-Bangalore India | History/ LiberalArts |
| 8 | Divyanshi Agarwal | 957 | OP Jindal Global University, Christ (Deemed to be University)-Bangalore India | Business Management |
| 9 | Tanvi Khandelwal | 686 | Christ (Deemed to be University)-Bangalore India | Business Management |
| 10 | Aadrika Dwivedi | 922 | OP Jindal Global University, Christ (Deemed to be University)-Bangalore India | Liberal Arts |
| 11 | Akanksha Khetan | 905 | Christ (Deemed to be University)-Bangalore India | Commerce-Accounts and Finance |
| 12 | Husnal Kaur Sahni | 908 | NIFT, ISDI, PEarl Academy India | Fashion Communication |
| 13 | Bhavya Chaudhary | 775 | Christ (Deemed to be University)-Bangalore India | Business Management |
| 14 | Chitra Shah | 1488 | King's College, London, Durham University UK | Political Sc |
| 15 | Yashvi Tikmani | 930 | King's College, London, Imperial College London UK | Astrophysics and Computer Science |
| 16 | Hiya Arya | 1110 | University of Sheffield, University of Warwick, Kings College London UK | Business |
| 17 | Mahak Jain | 1507 | Lancaster University, University of Bath, Warwick, Toronto(Scar), University of Bristol UK | Business |
| 18 | Sudarshana Dutta | 1542 | cardiff, Newcastle, Kings College London UK | Mass Communication |
| 19 | Riya Garg | 1166 | University of Creative Arts, Leeds Arts University UK | Design |
| 20 | Mahak Jain | 1507 | Lancaster University, Brock University, York University, University of Bath, Warwick, Toronto(Scar), Waterloo, Bristol Canada | Business |
| 21 | Riya Garg | 1166 | University of Creative Arts, Leeds Arts University, Emily Carr University of Art and Design Canada | Design |
| 22 | Mannan Kaur | 1230 | York University, Western University, University of Alberta, McMaster University Canada | Business |
| 23 | Khushi Malhotra | 1424 | Carleton University, Wilfrid Laurier University Canada | Business |
| 24 | Ribhya Khullar | 1120 | York University, University of Calgary, University of British Columbia, McMaster University, Waterloo University Canada | IT & Business/ Business and Math |
| 25 | Ananya Khemka | 951 | University of British Columbia, York University Canada | Computer Sc |
| 26 | Sudarshana Dutta | 1542 | QUT, RMIT, LaTrobe, Deakin, University of Melbourne Australia | Mass Communication |
| 27 | Tulika Murarka | 1478 | RMIT, Queensland University, University of Melbourne Australia | Information Technology |
| 28 | Hiya Arya | 1110 | University of Melbourne, UNSW Australia | Business |
| 29 | Yashvi Tikmani | 930 | University of Wisconsin-Madison USA | Computer Science |
| 30 | Kavya Jain | 1044 | Arizona State University, University of Central Florida, San Francisco State University USA | Business |
Undergraduate Offer Letters, 2020
SNo
Name
Admission Number
Colleges
Course/Company Name
1
Diya Agarwal
785

Woxsen School of Art and Design, Telangana.
Indian Institute of Art and Design, New Delhi.
Indian School of Designing and Innovation, Mumbai.
United world Institute of Design, Gandhi Nagar.

Communication Design and Graphic Design
2
Mannat Saharan
612

University of Nottingham, United Kingdom.
University of the Creative Arts, Canterbury.
Cambridge Ruskin International College, United Kingdom.
University of Bath Spa, England.
University of Northampton, England.
The Architectural Association School of Architecture, London.

Architectural design and Engineering.
3
Saakshi More
1124

Durham University, England.
The University of Manchester, England.
University of Edinburgh, Scotland.

Astrophysics
4
Savya Khetan
1381

Istituto Marangoni, Mumbai.
Indian School of design and innovation, Mumbai.

Fashion Design
5
Khushy Jaiswal
477

Indian School of Designing and Innovation, Mumbai.
National Institute of Fashion Technology.
Instituto Marangoni, Mumbai.
Whistling Woods, Mumbai.

Fashion Communication & Styling.
6
Drishti Manju
981

American Academy of Dramatic Arts, New York.
New York Film Academy, New York.
Syracruse University, New York.
Monash University, Melbourne

Mass Communication Acting and Production Journalism

Bachelors in Jornalism Bachelors in Media communication
7
Anushka Barik
1332

The University of New South Wales, Sydney.
The University of Melbourne, Melbourne.
Macquarie University, Sydney.
Monash University, Melbourne.

B.Com Honors in Accountancy and Finance with Event Management
8
Samriddhi Arya
1109

Parsons School of Design, New York.
University of Arts, London.
Pratt Institute, New York.
School of the Art Institute of Chicago, Chicago.
California College of the Arts, Oakland.
Otis College of Art and Design, Los Angeles.

9
Ahana Dulat
840

University of Manchester, Manchester.
University of Warwick.
University of Bath.
Durham University.
Monash University
University of Victoria
University of British Columbia.

Economics Honors Political Science, Philosophy, Economics Management with placement Pol. Science, Philosophy and Economics Economics Economics Economics
10
Varuni Agarwal
915

Ashoka University, Sonipat.
Christ University

International Relations
BA LLB
11
Sajal Agrawal
1176

University of Nottingham, United Kingdom.
School of the Art Institute of Chicago.
Massachusetts College of Arts.
Savanna College of Art and Design.
Pratt Institute, New York.
California College of arts, San Francisco.

Product and Industrial Design
Designed objects
Industrial Design Industrial Design Industrial Design Industrial design
12
Khushi Gupta
756

Singapore Institute of Management, Singapore.
Christ University, Bangalore.

BSc. in Management and Digital Innovation
BA in English, Psychology and Mass media
13
Aradhya Agarwal
742

University of Nottingham, United Kingdom.
University of Leeds.
The University of Sheffield, England.
Loughborough University, England.

International Relations and Politics.
14
Somya Mohan
1174

St. Mary's University, Texas
University of Texas at St. Antonio

Criminology Criminal Justice
15
Payal Maheshwari
422

York University, Toronto
Penn State University Park
The University of Hong Kong
University of Waterloo
Queens University
Manipal University
Vellore Institute of Technology, Vellore.

Computer Science Engineering
16
Riddhi Gupta
550
BA LLB
17
Suhani Agarwal
953

Christ University, Bangalore
Narsee Monjee Institute of Management, Mumbai

BBA Fin Tech
BBA in branding and advertising
18
Falguni Somani
1340

Christ University, Bangalore

BA in psychology, sociology and Economics
19
Nidhi Agrawal
1330

Christ University, Bangalore
Mithibai, Mumbai

BBA Fin Tech and BBA Business Analytics Bcom.
20
Shreya Agarwal
1366

Christ University, Bangalore

Bcom.. Honours
21
Nandini Khandelwal
296

Christ Univerity, Bangalore
Symbiosis University, Pune

BA LLB(Honours) Bachelors of arts and BA LLB(Honours)
22
Haytal Jain
810

Sharda University,Greater Noida
Presidency University,Banglore

BA LLB(Integrated Course)
BA LLB(Honours)
23
Saumya Agrawal
1118

Narsee Monjee Institute of Management, Mumbai

B.Com Hons
24
Riya Agrawal
1413

Narsee Monjee Institute of Management,Navi Mumbai
Symbosis International School, Pune

B. Com Hons
25
Mitali Agrawal

Narsee Monjee Institute of Management, Mumbai

(course)
26
Rehat Reet Brar
548

Kristu Jayanti, Banglore
Symbiosis International School, Pune
Mithibai College, Mumbai
Flame University, Pune
O.P Jindal, Sonipat
Presidency University, Banglore

BA History, Pol Science & Economics BCA BA Political Science
BA Political Science B.A LLB
27
Bhavya Jain
1346
BBA
28
Puja Sharma
478

Christ University
Narsee Monjee Institue of Management, Mumbai
O.P Jindal, Sonipat

BBA
29
Zainab Ali Khan
928

SMTMMK College of Commerece and Economics, Mumbai
SVKM's UPG College of Science, Arts and Commerce, Mumbai

BMM
30
Prashna Thapa
1376

Vellore Institute of Technology, Vellore

B.Tech Computer Science
31
Pawni Agrawal
1158

Narsee Monjee Institute of Management, Navi Mumbai

BBA
32
Veni Agrawal
1159

Narsee Monjee Institute of Management, Indore

BBA
33
Ananya Tekriwal
758

Flame University, Pune
Mount Carmel, Banglore

Biology and Psychology